Post-Wig Skin Care: Your Step-by-Step Routine for Happy, Healthy Skin
Posted by Skylyr Phillips
Reveal Smooth, Glowing Skin After Wig Wear with These Skincare Tips
Whether you're leaving your install in for hours or days, the process of removing a wig can be tough on the hairline and surrounding skin. Harsh ingredients in adhesive removers can dry and aggravate the hairline, and the glue itself can cause irritation by blocking pores for hours on end. Luckily, a good skincare routine will have your hairline bouncing back in no time.
Before we jump into skincare, let's emphasize the key to having the least amount of skin irritation: be gentle during the removal process! Invest in a good adhesive remover and let it sit on the glue for a few minutes so it has time to dissolve - this way, you'll have to do as little tugging and rubbing as possible. Be as gentle as you can for a happy hairline. Now let's get into skincare!
Cleanser
You guessed it – step one is to gently wash away any remaining adhesive, sweat, dirt, and grime that has accumulated on your skin. The following cleansers are gentle on the skin but great at removing grime.
Sweet Chef Oat Milk Latte Cleanser, $13
This gentle cleanser features niacinamide (vitamin B12), soothing oats, antioxidant-packed coffee seed, and hydrating hyaluronic acid to gently slough away makeup and any remaining wig adhesive.
Nubian Heritage African Black Soap Bar, $4.99
Using hydrating shea butter, moisturizing aloe vera, and the calming properties of oats, this bar soothes and detoxifies. Plus, palm ash adds minerals and antioxidant properties that cleanse and protect the skin. 
Chemical Exfoliant
If leaving adhesive on your skin has caused blackheads or acne, using a gentle chemical exfoliant can help unclog stubborn pores and smooth out texture. However, it should be noted that this step might not be suitable if your skin is sensitive – especially if you rubbed hard while removing the adhesive (physical exfoliation), your skin may be too sensitive to immediately jump into another exfoliant. In this case, try using one the next day, and instead opt for a serum and/or moisturizer the night of. If your skin is ready for an exfoliant, here are some great options!
Bolden Brightening Glycolic Acid Toner, $19.50
This toner hydrates the skin with hyaluronic acid, a humectant that attracts moisture, and niacinamide which improves skin texture and supports your skin's barrier. The star ingredient, glycolic acid, sloughs away dead skin cells to reveal smooth skin underneath.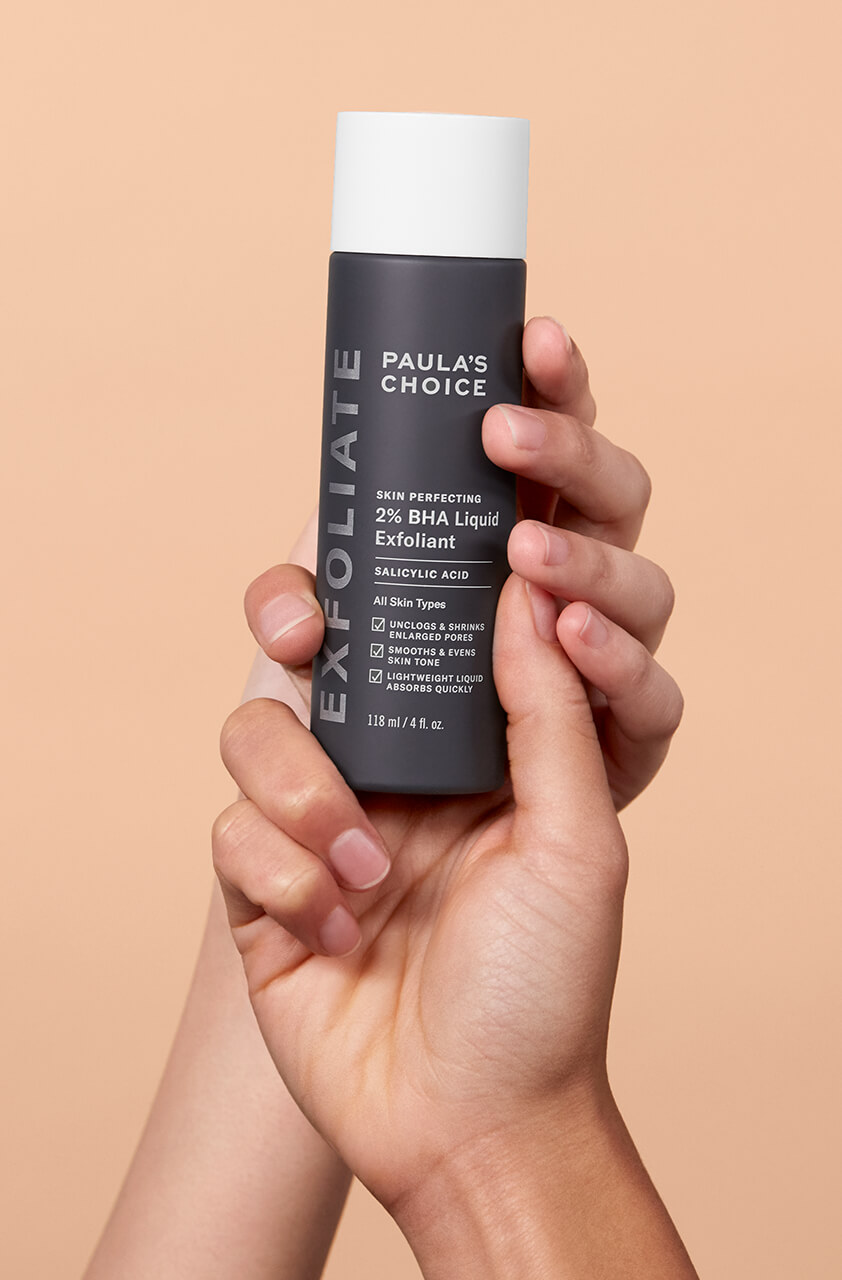 Paula's Choice 2% BHA Liquid Exfoliant
BHA (beta-hydroxy acids) are oil-soluble and ideal for unhappy pores. This product uses salicylic acid to penetrate deep into pores, relieving congestion. Plus, methylpropanediol hydrates the skin and green tea soothes irritation.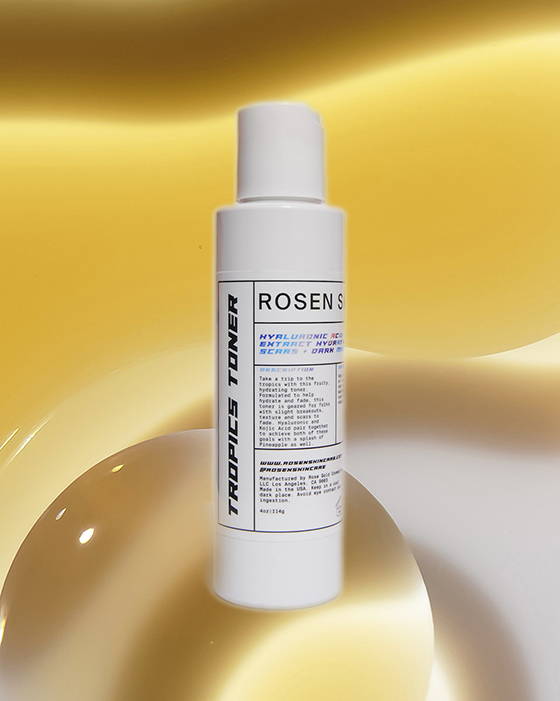 Rosen Tropics Toner, $18
This toner features pineapple enzyme extract and papaya fruit extract, two plant-based ingredients whose enzymes gently exfoliate the skin and provide anti-inflammatory benefits. 
Antioxidants
Antioxidants are perfect for skin that's too sensitive for exfoliants, or skin that hasn't broken out from adhesive but just needs a little extra TLC after the ordeal. Antioxidants protect the skin from free radicals and pollutants, and are great at calming inflammation. Formulated as both serums and oils, your preference will boil down to your skin type and preferred texture. Listed below are both options, plus a video that goes over the subject in depth!
Sweet Chef Ginger and Vitamin C Serum, $20
This potent serum combines the power of vitamin C and plant extracts. Ginger extract releases powerful antioxidants while turmeric root extract calms the skin with its anti-inflammatory properties.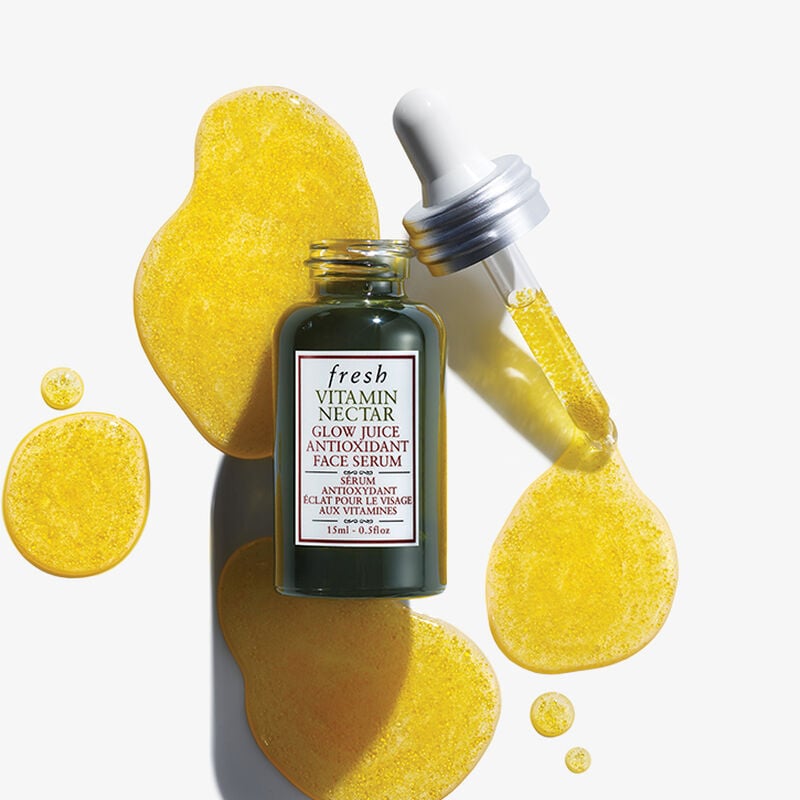 Fresh Vitamin Nectar Antioxidant Serum, $28
Harnessing the power of vitamins C, E, and B5, alongside various fruit extracts, this serum's micro-capsules deliver potent results. Plus, antioxidants like jicama root juice and beta-carotene hydrate and revitalize the skin.
54 Thrones Aja Nourishing Face Oil
This oil, packed with 14 plant nutrients, is a powerful combination of botanicals, herbs, and extracts that soothe and repair the skin. With a base of antimicrobial Marula oil, this product moisturizes and nourishes.
Moisturizer
Nothing says "sorry for covering you in adhesive" like a good moisturizer. With its ability to soothe irritation, calm inflammation, and hydrate, this step is arguably the most important of all. Your ideal moisturizer should leave your skin feeling elastic and hydrated, accomplished through an array of ingredients like water-attracting hyaluronic acid and skin barrier-repairing ceramides. Below are our three favorites for use around the face and hairline.
Skin Buttr Moisturizer, $42
This cream not only moisturizes with olive and almond oil, but hydrates with aloe leaf juice and shea butter. Plus, if your skin is hungry for more antioxidants, this product is packed with plant extracts that get the job done.
CeraVe Daily Moisturizing Lotion, $12.99
 This fragrance-free, lightweight lotion is sure to be non-irritating on even the most sensitized skin. With three ceramides that repair the skin barrier, hyaluronic acid infuses moisture into the skin while dimethicone locks it into the skin's protective barrier.
Takeaways
Having a solid skincare routine is not only a great way to pamper your hairline post-wig but the best way to make sure your scalp is prepped for your next look. Have fun experimenting and enjoy the self-care!
FAQ
Question: Why does my scalp itch after wearing a wig?
Answer: Wearing a wig can cause a buildup of sweat and oils which sometimes causes itching. To prevent itching, it can help to wear a wig cap, cleanse your scalp, and regularly wash your wigs.
Question: How often should I wash my scalp after wig removal?
Answer: Different scalps require different care. Some people go days or even weeks between wash days and others need a cleanse after each wig install. When in doubt, it's a good idea to wash your scalp if you notice oiliness, product buildup, or itching.
Question: What should I do if my skin is red and inflamed after wig removal?
Answer: If your skin is red and inflamed after wig removal, it could be a sign of an allergic reaction or infection. Consult with a dermatologist for proper diagnosis and treatment.
Question: How can I prevent hair breakage after wig removal?
Answer: To prevent hair breakage, gently detangle your hair before and after wearing a wig. Use a dissolver to remove any glue, and moisturize your hair regularly to keep it strong and healthy.
1 comment