Ultimate Guide to Buying a Wig for Black Women
What is the best quality of wigs? How do I pick the right cap size? Does my face go with this length and color? What style will suit me?
All of these questions will likely come to mind if you're new to buying wigs. With this ultimate guide, we'll make it easy to figure out the wig of your dreams.
There are tons of options on the market, and it's important to consider things like quality, cap size, style, and color. All of these factors play a role in finding a hairstyle that best suits you. 
HAIR TYPE: HUMAN HAIR VS. SYNTHETIC HAIR WIGS
The first step is choosing the hair type of your wig. There are two types of hair you'll find on the market, Human Hair Wigs and Synthetic Hair Wigs. Human hair wigs also fall into categories, such as Virgin Hair Wigs, Remy Hair Wigs, and Non-Remy Hair wigs – don't stress, we'll cover that later!
Synthetic hair wigs are made with man-made fibers, with different types including  polyester, acrylic, and PVC. Similarly to human hair wigs, the quality of synthetic hair wigs varies widely.
There are both pros and cons to each type of wig. Let's find out more!
Virgin hair wigs are 100% human hair wigs. Virgin hair refers to hair that has never been dyed, bleached, or undergone any chemical processing. Any colored or chemically processed hair cannot be considered virgin. Virgin hair is soft and strong, and can be heat styled and washed gently just like normal hair. Another perk of virgin hair wigs are that they can be bleached and dyed to suit your personal styled – just be careful if you're not an expert!
Pros
Soft, silky, natural appearance
Can be chemically processed and heat styled
With good care virgin hair wigs can last for years
Cons
Costs more than synthetic hair
Can come from forced or unethical sources
2. REMY HAIR WIGS
Remy hair wigs are also 100% human hair wigs. Remy human hair is directly collected from donors and its orientation of cuticles moves towards the same direction. By keeping the hair follicles in their natural direction, Remy hair is softer, less prone to tangling, and considered higher quality. Remy human hair does not go through any chemical processing to protect its natural beauty and quality. This type of hair is directly collected from donors from a variety of countries, including Russia, India, Brazil, and Peru.
Pros
Washable just like natural hair
Not prone to shedding and tangling
Higher quality with a more natural look
Can last for years with good care
Lower maintenance due to cuticle orientation
Cons
More expensive than non-Remy and Synthetic wigs
Can come from forced or unethical sources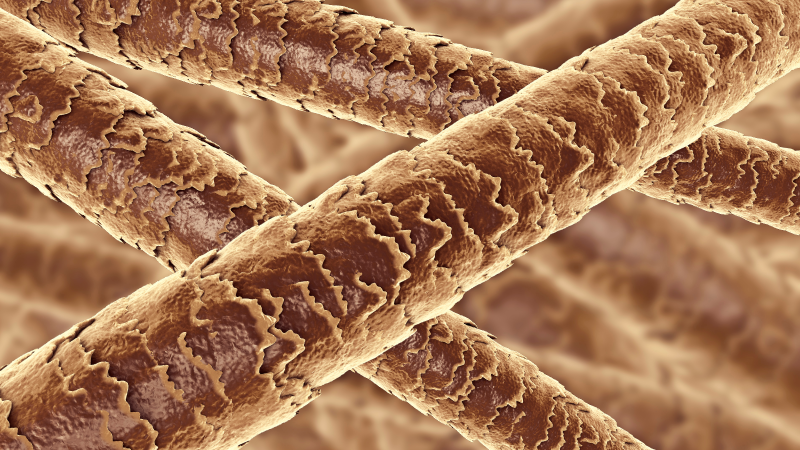 Pictured: Hair cuticles up-close – on a natural scalp, hair cuticles grow in the same direction.
Non-Remy hair is usually collected from temples, salons, or leftover hair from a variety of donors. Non-Remy hair goes through a chemical process that strips the outermost cuticle, allowing the hair to be soft, shiny, and tangle-free without the hassle of keeping the cuticles in the same direction. This process allows non-Remy hair to be more affordable while still maintaining the feel and look of being human hair. However, it's not recommended to dye or bleach non-Remy hair, as it's already chemically processed. Non-Remy hair may also require more care as it needs to be moisturized with silicones to stay soft and supple.
Pros
More affordable than Remy Human Hair Wigs
Still looks and feels like natural human hair
Heat styleable
Cons
More delicate than Remy hair in terms of bleaching and dyeing
Needs to be upkept with hair product to maintain its shine
Synthetic hair wigs are a great choice if you're on a budget or just want to experiment with a new style. Although they have limitations in terms of customization and heat-styling, many synthetic wigs are still able to be heat styled and gently washed for a long lifespan. Synthetic hair wigs are made with fibers like polyester, acrylics, and PVC, and vary in quality. Typically, Kanekalon fibers are the highest quality synthetic material, and can give the appearance of flowwy, beautiful hair with a natural sheen. Synthetic wigs are easiest to maintain and the most cost effective if you're trying to grow your collection!
Pros
Affordable
Low maintenance
Tons of colors and styles that snap back to their pre-styled look after a wash
Pre-styled and ready-to-wear
Cons
Shorter lifespan
Some can't be heat-styled or dyed
Harder to find a high quality brand
Wearing a wig cap is your personal choice. Wig caps act as a barrier to protect the scalp throughout the day, and can serve as a skin-colored base for lace wigs. Identifying the perfect cap size is very important before buying wigs. While most wig caps come in ordinary sizes, which typically suit most heads, many wig caps are also available in small and large sizes. To ensure a secure and comfortable fit, remember that many also include adjustable straps that give up to 1/2".
To ensure the perfect fit, measure the circumference of your head. The size of wig cap depends on the brand. Most brands offer adjustable caps that make it easy to customize the wig circumference to fit your head.
Many wig caps are breathable Capless Caps that hide the cap underneath by having teased fibers at the roots. In a Hand Tied Cap, the cap features a hand-tied structure that provides the most comfortable and natural look. The lace Front Cap is another common wig cap style that features individually tied hairs on a lace around the hairline. It creates a more natural look by pulling hair away from the face.
Face shapes play a significant role in choosing wigs, but is not necessarily a key factor. You can choose a fringe, bob, bangs, and even get a wig with baby hairs in your desired color in a variety of human and non-human fibers. The length, style, and color depend entirely on your comfort zone, lifestyle, and personal style preferences. With wigs, you can have a different style every day!
Synthetic wigs come in a selection of colors from the full-color range with different styles. You can choose your favorite one from them. If you are up to buying Virgin hair wigs you can find them in different shades and can also dye them.
We hope our ultimate guide to buying a wig will help you to purchase your first wig!